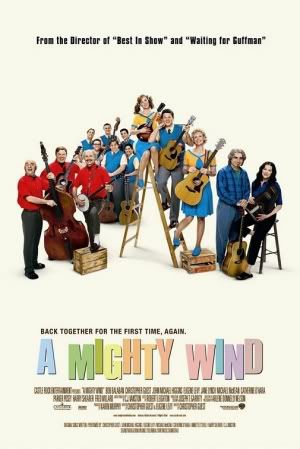 La otra película de los creadores de"Spinnal Tap", la hermana boba por así decirlo. Una joya para aquellos que estén mas o menos metidos en la música folk (o por lo menos que conozcan de que va). Es bastante graciosa, y además, la música muy buena en esta película del 2003. Michael Mckean, Christopher Guest y Harry Shearer (a lo mejor el nombre de los tipos no te suena a nada, pero de cara los sacás) ya nos demostraron que saben tocar y componer en Spinal Tap (próximamente, en su blog amigo =p), pero en esta película realmente se lucen con los arreglos para cuerdas acústicas y unas letras voladas con cuotas de humor.
Trama: Falso documental sobre la creación de un programa especial de televisión en honor a la muerte del productor más famoso del mundo de la música folk, Irving Steinbloom. En ese especial tocarán las bandas mas famosas producidas por el difunto Steinbloom.
The new main street singers, banda que es repudiada por el resto por ser demasiado comercial. The Folksmen, quienes se reúnen por primera vez en décadas. Y Mitch & Micky, los iconos musicales durante el apogeo del folk.
La película se aprovechará de los recuerdos, los problemas personales de los integrantes y la nostalgia de la época para crear situacion ridiculas y absurdas. Pero el especial se lleva a cabo y es buenísimo, imperdible.